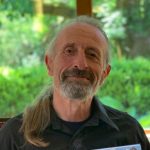 Steve Allin.
Sustainalble Hemp Consultant Online advice and solutions
Working with hemp materials in construction projects since 1997 Steve Allin has gained invaluable knowledge about what materials to use where and how. He is always happy to answer questions and discuss projects.
Steve Allin has enthusiastically pioneered the use of hemp in building in Ireland and internationally since 1997 & is the author of the pre-eminent book "Building with Hemp" (2005) 2nd Edition (2012). His latest book is "Hemp Buildings: 50 International Case Studies" (2021).
He has also contributed articles to a variety of publications from the Green Building Bible to Irish Tech News and HempToday.

He was a director of Hemp Ireland Ltd. (1998-2003) which was set up to research and develop a hemp processing facility in Ireland. The information gained from this helped in developing the plans for a truly sustainable industrial production of hemp on a local community level as a bio-regional approach to the production of basic ecologically appropriate food, biomass and building materials.
The use of hemp in construction was seen by Steve as the best way to expand the production of hemp and a way to increase the value of the hemp wood element of the crop.

In his activities connected to actually using the materials he has experimented with many different combinations of ingredients to create a binder for hempcrete and has consulted with different projects all over the world. As a hemp building consultant he has advised on projects in Belgium, Canada, Haiti, Ireland, Nepal, South Africa, Switzerland, UK and the United States. He has run many successful Hemp building courses in Australia, Canada, Finland, Ireland, Sweden and the United States.He continues to act as an advisor for projects wishing to establish hemp processing facilities for hemp construction products.

He is currently director of the International Hemp Building Association IHBA which was formed in November 2009 after a successful 1st International Hemp Building Symposium organised earlier that year in Ireland. In his role as director of the IHBA, Steve has given presentations in the Czech Republic, Ireland, Germany, Lithuania, Spain, Sweden and the United States.
He provides a consultation service, which can also be online, where ever you are located in the world, to discuss design options and other issues relating to your proposed project, new build, residential extension or refurbishment. He also has extensive expertise in building process and material development. He offers a special advisory option to students with a focus on international.
History of Hemp Building Activities with Steve Allin
European Industrial Hemp Association 17th Conference, Presenter – Hemp building session, Brussels, Belgium, Jun 2022
Hemp Consultant for Bord na Mona, Ireland, 2020
1st US Hemp Building Summit, Keynote Speaker – What Has CBD Got To Do With Hemp Building, Ketchum, Idaho, Oct 2019
European Industrial Hemp Association 16th Conference, Speaker – The Broad Range of Hempcrete Applications Worldwide, Cologne, Germany, Jun 2019
Speaker, 1st Asian hemp Summit, Kathmandu, Nepal, Feb 2019
Speaker, Hemp and Environment, International Cannabis Policy Conference, Vienna, Austria Dec 2019
8th International Hemp Building Symposium, Organiser, Symposium, Brussels, Belgium, Oct 2018
7th International Hemp Building Symposium, Organiser, Symposium, Montreal, Canada, Oct 2017
European Industrial Hemp Association 14th Conference, Session chairman – Hemp Building, Cologne, Germany, Jun 2017
Tillburg, Netherlands EcoWeek Speaker, Bio Based (R)evolution, Tilburg, Netherlands, May 2017
6th International Hemp Building Symposium, Organiser, Symposium, Verona, Italy, Oct 2016
European Industrial Hemp Association 13th Conference Delegate Steve Allin, June 2016
International Colloqium on Cannabis and Drugs, Speaker, Use of Hempcrete Internationally, Tangier, Morocco, Mar 2016
Meeting with Dr Baburam Bhattarai, ex Prime Minister of Nepal, Kathmandu, Nepal, Mar 2016
Speaker, Hemp Event, Environmental Science Study UCC, Cork, Mar 2016
COP 21, World Hemp Quarter Info Stand/Speaker Hemp Building, Paris, France Dec 2015
5th International Hemp Building Symposium, Organiser, Schluesshof Seminar, Uckermark, Germany Oct 2015
Hemp Can't Save show Bellingham, Washington, USA June 2015
Speaker on hemp building, Brunel University, London, UK, Mar 2015
Speaker UCG students for sensible drug policy 2015
Hemp Can't Save show Dublin Hemp Museum launch, Botega Cafe Dublin 2014
Hemp Can't Save show Green week Dun Laoghaire College of Art and Design. 2014
4th International Hemp Building Symposium, Organiser, Catwise Centre, Wales Apr 2014
3rd International Hemp Building Symposium, Organiser, Yverdon-Les-Bains, Switzerland Oct 2012
Hemp Can't Save show Liminal Village Boom Festival Portugal 2012
Hemp Conference University of Agricultural Science Alnarp, Speaker Hemp Building, Malmo, Sweden Mar 2012
HIA Conference, Speaker, Past Present and Future of Hemp in Building, San Francisco, USA Nov 2011
NEES Kick-off meeting, Speaker on Hemp Building, Cork, Ireland June 2011
EIHA 8th Conference Speaker on Hemp Composite Production in Ireland, Germany May 2011
Baltic Bast Fibres Growers & Processors Asso Conference, Speaker Hemp Building, Kaunus, Lithuania May 2011
Expo Cannabis Info Stand/Speaker on Hemp Building Malaga, Spain April 2011
2nd International Hemp Building Symposium, Organiser Granada, Spain April 2011
Cannafest Info Stand/Speaker on Hemp Building Prague, Czech Republic Nov 2010
EIHA 7th Conference, Speaker, Aims of the IHBA, Germany May 2010
1st International Hemp Building Symposium, Organiser, Kenmare, Ireland Sept 2009
EIHA 6th Conference, Hemp Building Workshop, Germany May 2009