Steve Allin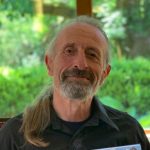 Sustainable Hemp Consultant, Steve Allin offers online advice and solutions.
Working with hemp materials in construction projects since 1997 Steve Allin has gained invaluable knowledge about what materials to use where and how. He is always happy to answer questions and to discuss your project.
He provides an online consultation service, wherever you are located in the world, offering advice and time to discuss design options and other issues relating to your proposed project, new build, residential extension or refurbishment. He has extensive expertise in building process and material development.
He also offers a special advisory option to students with a focus on international issues.
Read more and to book a consultation with Steve, click below.